Online Ikebana Experience|Ikebana Class Sakura Kyoto
Kyoto Flower arrangement experience with unique flowers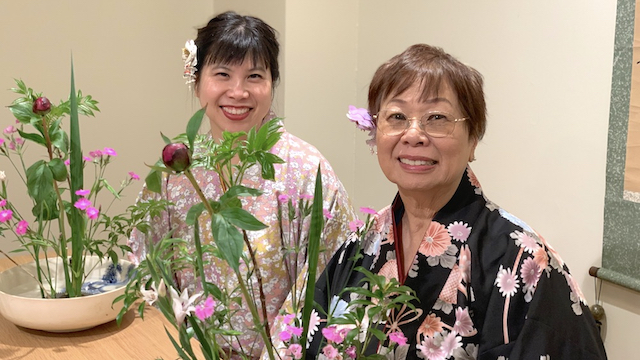 Kado is a classical Japanese art of refinement now popular worldwide.
It is believed that kado was founded in Kyoto's Shiunsan Choho-ji Temple (commonly known Rokkaku-do).
Monks at the Rokkaku-do temple were called 'ikenobo' as they lived in a house near the pond.
Eventually the name 'ikenobo' was applied to the style of flower arrangement.
Nowadays flower arrangement is an enjoyable activity for everyone and there are many schools of flower art with various arranging styles and techniques including Western styles.
Flower shops In Kyoto sell various unique plants and flowers you can not see in other regions.
いざ習うとなると敷居が高い体験レッスンも、ここSAKURAなら、一回だけで気兼ねなくお越しいただけます。
お子様や、ご自分に向いているかどうかと試すチャンスですよ!
SAKURA offers a flower arrangement experience using native flowers of Kyoto.
Feel the beauty of seasonal flowers through this experience.
レッスンで使った花材は、短く切ってお持ち帰りいただくことも可能です。
SAKURA's original booklet gift!
初心者の方でもご自宅に帰られてからも生け花をしていただけるように、オリジナルのプログラムを作成してお持ち帰りいただいております。
We also issue diplomas made of washi-paper.
Japanese style scissors and Western style scissors
We provide western style scissors if you are not comfortable with Japanese style scissors.
Flowers can be taken home!
If you are on a holiday trip you can put your flowers in your hotel room and enjoy them until your departure.
One Day Online Ikebana Experience
About fees
Basic fee
One person
3,300JPY
Optional fee
※The list price includes tax.
※The above price is a basic fee.
※Fees may vary depending on schedule, please check the fee displayed after selecting the date.
Included in price
Trial lesson fee, material cost, consumption tax
Not included in price
Soft drinks, alcohol and other items sold at the store.
Required minimum number of participants
1 Person
Possible number of bookings
1~6 Person(s)
About duration
Half an hour
Assembly time
Please arrive 10 minutes prior to your reservation time.