1kind Of Kazarimaki Sushi Roll Cuisine in Kyoto
Same-day bookings are available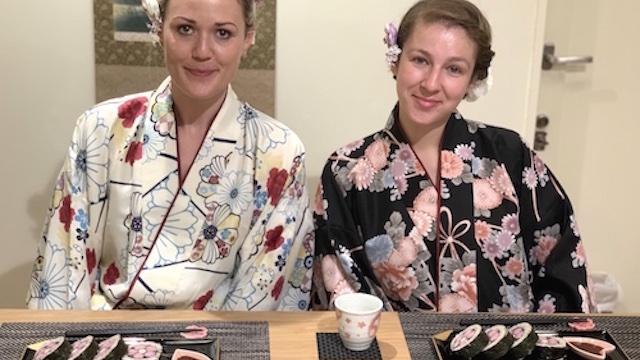 Price (per person)
7,700JPY (Not including tax)
Tour Detail
Schedule
The class schedule will be depended on the request.
Please come to meet in our cuisine class 10 minutes before the start
(For changing clothes as you like)
Duration:60min
Introduction with refreshment/5min
Cuisine&eating time/50min
Changing clothes and picture taking/5min
(we also take your picture during the lesson,and send you by e-mail after our class finished.)
Menu
・Kazarimaki sushi (decorative sushi rolls) 1kind
・Japanese tea
・Our original recipe booklet
・Certification from SAKURA
Options
・lot of kinds of sake, beer, and wine which made in Kyoto.
・Soft drinks
・Offered in bottles or cans,and you can choose antique sake cup to drink
Tour Tips
Booking process
・Please contact us for availability through 'BOOK IT' button below.
・We will check the availability and come back to you within 1 business day.
・Payment request will be sent.
・Reservation is done upon receiving your payment. Confirmation e-mail will be sent to you.
Payment
Please make your payment in advance for each classes.
Your booking will be completed after your payment has confirmed.
Major credit cards or PayPal are accepted. Currently these are the only payment methods.
Cancellation Policy
In case of cancellation, cancellation fees will be charged as below;
30%........... 4 - 7 days prior to the class
50%........... 2 - 3 days prior to the class
80%........... the day prior to the class
100%......... the class day
We offer hands-on experience classes. You must be careful and responsible for your own safety. We will not be held liable for accidents.
Condition
For cuisine program, please inform us, in advance,
if there are any religious or health restrictions, allergies, or any case where special care is needed when you ask us for availability.